The interim government in Libya has so far failed to deal with the issue of disparate groups of militias that remain organized in independent and defiant brigades throughout the country and who are now demanding top roles in government.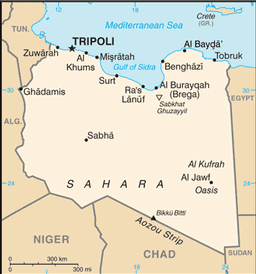 The militias, basically armed thugs who refuse to give up whatever limited control they've gained since helping to oust former dictator Muammar Gadhafi, have been waging turf battles with other militias and defying the government's pleas to lay down their arms.
On Sunday, Libya's ministers of defence, interior and planning unveiled a plan register these former rebels as members of a national army. The United States has been working closely with the interim government to help build up, train, arm, and equip a new Libyan national army, despite earlier promises from the Obama administration that interventions would be limited to the U.N. mandate to protect civilians from Gadhafi.
But many of these fighters have been demanding a much different role in the Libyan government. On Monday, representatives of the Union of Libyan Thwars (revolutionaries), which claims to represent 70 percent of these ex-rebels,  demanded the ruling National Transitional Council (NTC) grant them 40 percent of its seats.
The serious delinquency and war crimes committed by many of these groups has resulted in the NTC pushing back on these demands, urging the fighters to go back to the jobs and education they were committed to before the war. The U.S. role in bringing these factions to victory and power has yet to be acknowledged in the mainstream for the blunder that it is.