Unarmed civilian protesters in Bahrain were fired upon with tear gas and rubber bullets by government security forces on Wednesday when they attempted to march on Pearl Square.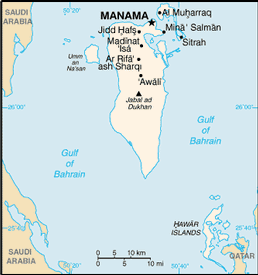 Opposition Shiites had gathered around the capital Manama to mark the religious observance of Ashoura and were met with violence from Bahraini security forces when they approached the square, which holds significant symbolic value as the epicenter of the uprising earlier this year.
Scores of protesters have been injured since the start of the anti-government protests, although no reports of injuries came from these latest clashes. Another death was added to the tally today though, when a 27-year old woman who had sustained head injuries during "rioting" in November died in a hospital near the capital on Wednesday.
The Bahraini government is a long-time U.S. ally receiving continued economic and diplomatic support from the Obama administration, despite an extended reign of repression in response to peaceful pro-democracy demonstrations. A recent independent probe into the government's response concluded also that torture was systemic for hundreds of detained Bahrainis.
The Obama administration in October was forced to temporarily suspend $53 million in arms to the government of Bahrain, after months of heavy international pressure to stop arming security forces against peaceful protesters.