In over a decade of war in Afghanistan, about half of all Americans killed in action and two thirds of those wounded have done so in 2010 and 2011, according to a Congressional Research Service report.
At the time the report was published on November 16, 1,723 Americans had died for the war in Afghanistan and 14,837 had been wounded. In just the past two years, 890 have been killed and 10,060 have been wounded.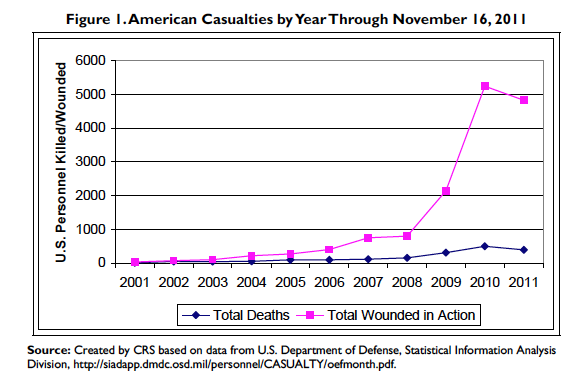 The figures serve as a stark illustration that President Barack Obama's decision to surge troops and double down on the war in 2009 has not been a success. Assurances from administration officials and military leaders that the war effort is seeing positive results seem to be belied by the dramatic rise in American casualties for elusive gains.
The report also offers figures of civilian casualties in Afghanistan, which it says should be thought of as "guideposts rather than as statements of fact" given the unreliability of estimates. Attempts to measure Afghan civilian casualties did not even begin until 2007, but since then the number killed and wounded as a result of the war – at least those that have been reported –  is approximately 21,844, according to the report (11,007 killed and 10, 837 wounded).