Two different Eritrean rebel factions, the Eritrean Salvation Front (ESF) and the Red Sea Afar Democratic Organization (RSADO), say they conducted a Thursday morning attack on a military base in southern Eritrea, killing 17 soldiers and kidnapping two others.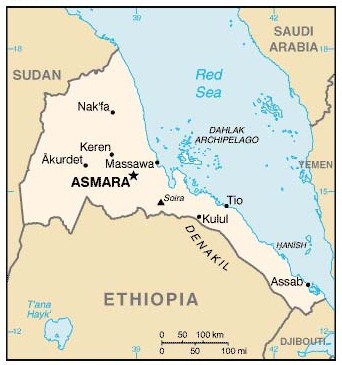 The Eritrean government so far has not commented on the latest raid, but the two factions have launched attacks against the nation in the past. The rebels are based in Ethiopia and are being backed by the Ethiopian government, which says it wants regime change in the nation.
Eritrea was only able to secure its independence in 1993 after decades of bloody clashes with Ethiopia. The Ethiopian government invaded again in 1998 and continues to occupy considerable disputed territory.
Since then the two nations have been on extremely poor terms, and Ethiopia has blamed the Eritrean government for virtually every foreign policy struggle it has had, including accusing them of being the reason Somali rebels contested the Ethiopian invasion so aggressively.