One of many secessionist movements across Yemen, the Houthi faction in the far north has launched an attack on a Sunni town in the Sadaa Province, killing at least 24 and wounding 61 others.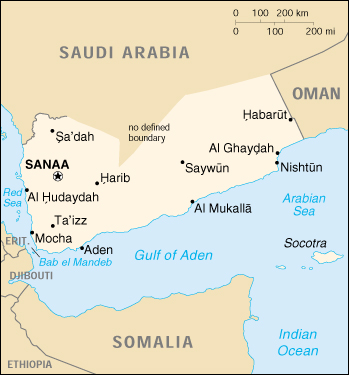 The Houthis got their start in the 1990's, arguing that their tribal areas along the Saudi border see virtually no government investment and that their Shi'ite membership is discriminated against by the Saleh government in favor of Wahhabist factions.
In 2009 they engaged in bloody clashes with the Saleh government and also seized several Saudi towns along the ill-defined border. The Saudi disputed ended with a negotiated settlement while the Yemeni situation never really calmed down, with the regime bombing hospitals and refugee camps.
Since the pro-democracy movement began in Sanaa early this year, the Houthis have seized most of the territory in the far north, and have de facto control over both Sadaa and al-Jawf, as well as considerable influence in the surrounding area. Today's attacks reflect their belief that the Sunni tribesmen in the area continue to support the Saleh government, though at least some of those tribesmen have begun backing the pro-democracy movement as well, and Saleh forces actually attacked Sunni tribesmen in Arhab only yesterday, killing at least 80.