The United States has removed Predator drones from Iraq and deployed them to Turkey in support of Ankara's fight against Kurdish rebels.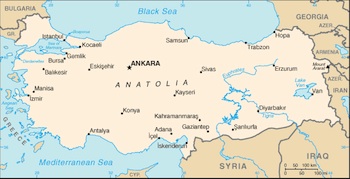 In one aspect of the precipitous withdrawal from Iraq, equipment like drones are being freed up for use in other countries in the region. Four U.S. unmanned aerial vehicles will be shifted from an air field in northern Iraq to the Incirlik air base in Turkey.
According to Pentagon spokesman Captain John Kirby, the drones will be left unmanned for their use in Turkey. "There is an agreement now to fly some of those ISR (intelligence, surveillance and reconnaissance) assets out of Incirlik at the request of the Turkish government," Kirby said.
Violence has escalated in recent months between the Turkish government and the Kurdish separatist movement Kurdistan Worker's Party (PKK). Rights groups recently began investigating PKK claims that Ankara used chemical weapons against them, which are inherently indiscriminate and would be a violation of international law.
Aside from the drones, the Obama administration has responded positively to Turkish requests for counter-terrorism assistance. The last concentrated partnership between the US and Turkey against Kurdish rebels resulted in massive human rights abuses. The two states cooperated in major atrocities against southeastern Turkey in the 1990′s, leaving the countryside devastated with tens of thousands killed and millions displaced.