In comments broadcast today on Hezbollah-run al-Manar TV, the Shi'ite movement's leader Hassan Nasrallah cautioned the US and Israel against attacking Iran, saying such a move would start a war across the entire region. He also warned a Western invasion of Syria would have a similar outcome.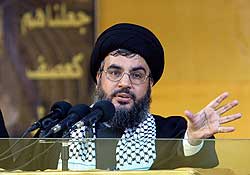 "I'm not threatening, but anyone with sense can see that," Nasrallah said. He also expressed confidence that Iran would be capable of defending itself from any such attack.
The question of the cost of a prospective war on Iran is a major topic, not just because such threats have been coming with increasing regularity, but because hawkish officials within the Israeli government have sought to dramatically downplay those costs, with Defense Minister Ehud Barak insisting the overall Israeli casualties from a war with Iran would be "less than 500."
Though this seemed to be a major talking point for the Netanyahu government, the common sense approach, as Nasrallah notes, is that it is untrue. A top Israeli investment firm discussing the possible attack concluded that the economic damage alone to an international attack on Iran would be so devastating that it was unlikely to happen.