The International Atomic Energy Agency (IAEA) "is unable to provide credible assurance about the absence of undeclared nuclear material and activities in Iran, and therefore to conclude that all nuclear material in Iran is in peaceful activities," according to a report by the UN watch-dog.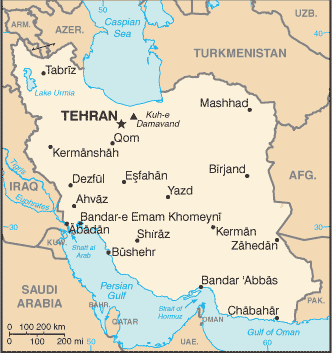 The report states that "the Agency continues to verify the non-diversion of [Iran's] declared nuclear material," but that "Iran is not providing the necessary cooperation" for the IAEA to completely rule out a military dimension to Iran's nuclear program.
The report charges Iran with being slow to respond to IAEA requests for further information "concerning the construction of ten new uranium enrichment facilities," the sites for five of which have been decided and only one of which has begun construction.
Based on information provided to the IAEA primarily from Member States (especially the U.S.) and a 2007 interview with a leading figure in the clandestine nuclear supply network, the report claims that there are "indications that some activities relevant to the development of a nuclear explosive device continued after 2003, and that some may still be ongoing."
Summarizing the conclusions regarding the possible development of a nuclear explosive device, the report notes:
Efforts, some successful, to procure nuclear related and dual use equipment and materials by military related individuals and entities;
Efforts to develop undeclared pathways for the production of nuclear material;
The acquisition of nuclear weapons development information and documentation from a clandestine nuclear supply network; and
Work on the development of an indigenous design of a nuclear weapon including the testing of components.
The report provides circumstantial evidence, provided by Western intelligence sources, that Iran has engaged in research and development activities which are "strong indicators of possible weapon development." No direct evidence, however, is provided of an active weaponization program; the report's concerns mostly arise from the absence of evidence disproving weaponization.
Iranian officials have dismissed the report as inaccurate and politically motivated. They charge the IAEA's new Director General, Yukiya Amano, has a pro-Western bias. Indeed, the Guardian's Julian Borger has compiled a series of U.S. State Department diplomatic cables released by WikiLeaks which reveal a similar evaluation of Amano by the U.S.
In October 2009, as Amano was coming in as Director General, the U.S. State Department wrote that he was "DG of all states, but in agreement with us." Amano reminded the U.S. ambassador that he would have to be "fair-minded and independent, but that he was solidly in the U.S. court on every key strategic decision, from high-level personnel appointments to the handling of Iran's alleged nuclear weapons program."
If the IAEA's concerns about an Iranian nuclear program are correct, close watchers of the Persian Gulf region will not be surprised. U.S. policy influences Iran strongly towards attaining a nuclear deterrent, so that Iran may have have such intent has been predictable for years.
The U.S. has waged two aggressive, unnecessary wars directly along Iran's east and west borders, constantly floods the Persian Gulf with fleets of navy warships, props up client states surrounding Iranian territory with weapons systems and money, and heaps restrictive sanctions on Iran's energy and banking industries.
In addition, the Bush administration had received from Congress funding for a program of support for rebel ethnic groups in Iran to work to undermine the government. For years now, a concerted covert U.S. campaign of cyber-terrorism, commercial sabotage, targeted assassinations, and proxy wars has been under way in Iran.
Lastly, the close U.S. relationship with Iran's two adversaries – Saudi Arabia and Israel – have contributed to the implication of an impending U.S.-led attack on Iran. Israel has repeatedly threatened to attack Iran and the Saudi King was revealed in leaked diplomatic cables to have explicitly urged the U.S. to attack Iran.
In such an environment, Iran is acting out of a perception of threat and is much more likely to pursue nuclear weapons capabilities to ensure against an attack from the outside.
The Obama administration has responded to the IAEA report by encouraging more sanctions to be placed on Iran. But the potential for a preemptive, unilateral Israeli strike are raising concerns. Israeli Prime Minister Benjamin Netanyahu has been pushing his cabinet to support a unilateral attack on Iran, and last week Israel tested a ballistic missile while making public statements about an Iranian nuclear threat.
But an attack on Iran is likely to trigger regional war of successive retaliatory attacks. It would also be against the strategic interests of the U.S. and Israel in that it would likely cause Iran to dig in its heals and fully engage in a nuclear weapons program.