Federal investigators have announced the conclusion of an 18-month long investigation into the handling of corpses at he Dover Air Force Base, concluding that there was "gross mismanagement" of human remains and that soldiers body parts were mixed up and in some cases lost entirely.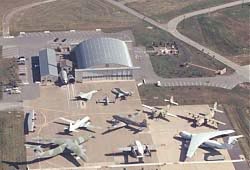 The story is a grim one, with civilian whistleblowers complaining that Dover actually lost a dead soldier's ankle and in one case sawed off a Marine's arm without telling the family. They were also said to have shipped body parts in "re-used cardboard boxes."
The investigation ended with the mortuary commander and two other senior officers "disciplined," but not fired, and with the Office of Special Counsel slamming the Air Force for not taking the allegations more seriously.
The Air Force insisted that it had responded by setting up a hotline, but that there was not enough evidence to show that any rules had been broken. They also said there was "no evidence of criminal wrongdoing."