Officials from Libya's National Transitional Council are reporting that Moammar Gadhafi's son and former heir apparent Saif al-Islam Gadhafi is in the process of negotiating on turning himself over to the International Criminal Court (ICC) in the Hague.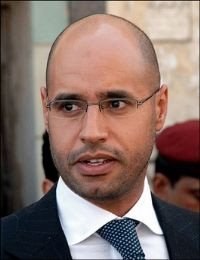 The ICC refused to confirm that any such thing was in progress, but NTC official Abdel Miegta said Saif as well as former spy chief Abdullah al-Senussi were in talks on the details of turning themselves in.
The move, if confirmed, is the latest in a long line of shifts in Saif's position, as he went from the dictator's reform-minded son to a bearded would-be Islamist who was promising to turn Libya into Saudi Arabia and now is seeking a way out.
But many believe Saif's influence over the country's loyalist forces died in large measure with his father, and that he would not be in a position to lead an insurgency even if he had a mind to. Given the way the NTC has been treating its captives it isn't surprising that he's hoping to ride out the civil war in the Netherlands.