Spirited away to a secret location yesterday, Moammar Gadhafi's body has emerged in an unlikely place, on display in the freezer at a Misrata shopping center, the latest move in a farcical 48 hour period that started with Gadhafi being captured and then turning up dead shortly thereafter.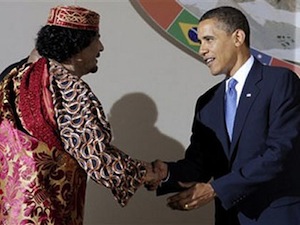 His burial "postponed" for the purposes of investigation, Gadhafi is instead stowed in a produce cooler, with residents lining up with cameras to get their photos taken with their slain dictator.
But how was he killed? One of the Misrata rebels has posted a video claiming he did it, showing off what he claims is Gadhafi's wedding ring and bloody jacket. He says he shot Gadhafi twice, including in the head, and that he died a half hour later.
He also threw the capture story into even further doubt, rejecting both the spiderhole and convoy stories and claiming he was just walking around Sirte with some children when he found and killed him.
Gadhafi's killing is also now being questioned from a legal perspective, with Russian Foreign Minister Sergey Lavrov saying Gadhafi was a prisoner of war after his capture and his killing violated the Geneva Conventions.