The extra-legal assassination of New Mexico cleric Anwar al-Awlaki was certainly controversial in its own right, but reports about the assassination targeting some sort of terrorist convoy seem to be crumbling under evidence and the number of children killed in the attack.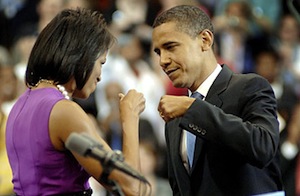 Among the slain was also Abdel-Rahman Awlaki, Anwar's 16-year-old son, one of his cousins Ahmed Abdelrahman Awlaki, and several of their friends, who were all teenage boys.
And despite the stereotype, the teenage boys weren't out "doing terrorism" in some vague non-specific manner in the Shabwa Province. According to a statement from relatives, they were out to dinner, eating "under the moon light" when US missiles landed.
Though the Obama Administration seems pretty comfortable with assassinating the elder Awlaki, even though he was a US citizen and not charged with any crimes, the killing of the assorted other people, including several teenagers, seems considerably more suspect. Killing children with missiles isn't exactly new to the president, of course, but Abdel-Rahman's status as a natural-born US citizen who was never even suspected of a crime is likely to make it difficult to sweep his assassination under the rug.