The Pentagon denied reports Saturday that the US abandoned plans to keep several thousand troops in Iraq after a year-end deadline, saying talks with Baghdad were still underway.
In a statement to reporters, Pentagon press secretary George Little denied the news reports: "Suggestions that a final decision has been reached about our training relationship with the Iraqi government are wrong. Those discussions are ongoing," Little said.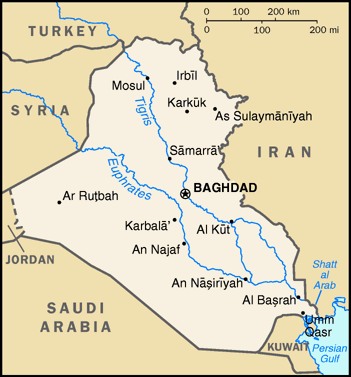 The US is still itching to keep about 5,000 additional troops past the deadline in December. The Maliki government – circumventing Parliament – initially agreed to the deal, but talks reached an impasse over granting the additional troops be immunity from Iraqi law. Iraqi government spokesman Ali al-Dabbagh last week suggested that Iraq was prepared to bow out of the deal, and instead rely on private contractors for "training" programs in 2012 and beyond.
A senior Obama administration official in Washington anonymously confirmed to The Associated Press on Saturday that all American troops will leave Iraq except for about 160 active-duty soldiers attached to the U.S. Embassy.
But whether a few thousand or a few hundred, the decrease in the number of troops from the current 41,000 seems unlikely to change Iraq's new client state status. An effective occupation is not even being negotiated upon.
As was reported here in September, the reduced level of troops is possible in tandem with the expanded diplomatic mission because the US has been largely successful in its intentions in Iraq, setting in place the intended political, military, and economic elements for Iraq to become a long-term client state instead of a warfront.
As the New York Times reported last month, the debate over specific numbers and figures is to some extent unimportant: "The administration has already drawn up plans for an extensive expansion of the American Embassy and its operations, bolstered by thousands of paramilitary security contractors."
Iraq may rival long-time client, Egypt. "An Office of Security Cooperation," reported the Times, "like similar ones in countries like Egypt, would be staffed by civilians and military personnel overseeing the training and equipping of Iraq's security forces" for an indefinite period.
The State Department is expected to have up to 17,000 employees and at least 5,000 military contractors for this ongoing diplomatic presence, which has been described as necessary to provide "situational awareness around the country, manage political crises in potential hotspots such as Kirkuk, and provide a platform for delivering economic, development and security assistance."
In short, many Iraqis may see much continuity in the relationship with the US. According to the most recent Quarterly Report of the Special Inspector General for Iraq, the Department of State "will assume primary responsibility for a planned $6.8 billion operation" carried out "from 11 locations around Iraq, including three consulates and the world's largest embassy." Responsibilities also include carrying out "two of the largest Foreign Military Sales (FMS) and Foreign Military Financing (FMF) programs in the world and to spend the $2.55 billion in Iraq Security Forces Fund (ISFF)."
As detailed in a declassified, partially redacted State Department document, a "fleet of 46 aircraft" will be "based and maintained in Baghdad, Basra, and Erbil" and will include 20 medium lift S-61 helicopters, 18 light lift UH-1N helicopters, three light observation MD-530 helicopters, and five Dash 8 fixed wing aircraft. Flight and landing zones, maintenance hangars, operation buildings, and air traffic control towers, along with maintenance and refueling will all be a part of the contracted construction operations.
Agreements will be negotiated with Iraq, Kuwait, and Jordan to secure authorization for continuous Embassy flight plans between the three countries, which all contain a massive presence of US military, diplomatic, and contractor personnel.
The State Department's $3.7 billion request for Iraq in FY 2012 includes funding for integrated programs of economic management. The United States Agency for International Development, alongside the United States Department of Agriculture, will continue to oversee sectors of Iraq's economy, especially its natural resources, as agreed upon in the secretive Strategic Framework Agreement.
The ongoing negotiations are probably tense on both sides of the isle, which is perhaps what led to the confusion. But it does not appear to have affected the many other aspects of US-Iraqi politics going forward. Almost a decade of war, hundreds of thousands of Iraqi civilians killed, millions displaced, and terrible crimes by the United States will continue to go unaccounted for and be the structure of American dominance in the country and the region.