Updated at 5:25 p.m. EDT, Oct. 12, 2011
Baghdad suffered a string of bomb and small arms attacks today, killing at least 30 people and wounding 88 others, not including the bombers and other suspects. Many of the victims were police personnel, who were the targets in two suicide attacks. The violence also appeared focused on Shi'ite neighborhoods. There were no immediate claims of responsibility, but two months ago al-Qaeda in Iraq, which is predominantly Sunni, vowed to carry out a spree that would total 100 attacks.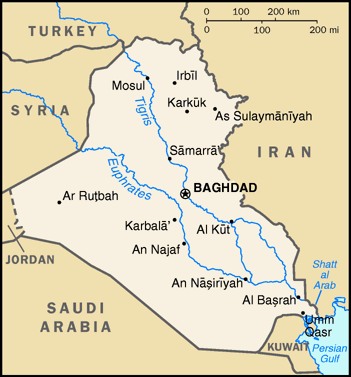 The worst blast killed 14 people and wounded 28 others, after a suicide bomber drove his car into a Karrada-area police station in central Baghdad. Not all the victims were police personnel. Witnesses said there were many burned bodies.
At about the same time in the northwestern Hurriya neighborhood, another suicide bomber struck a police checkpoint, where he killed nine people and wounded 27 more. A concrete barrier likely prevented higher casualty figures in this blast. The explosion did, however, leave a large crater and damaged nearby buildings. A second bomb in Hurriya, this one left by the roadside, targeted soldiers. Its blast killed one civilian and wounded 12 others, mostly soldiers.
Other bombings, perhaps unrelated, took place across the capital as well: A car bomb in Illam killed three people and wounded 11 others. Two policemen were killed and seven others were wounded during a blast in Washash. A sticky bomb attached to a car wounded a brigadier general in Suleikh. At least three other bombs, including one at an Interior Ministry building, were discovered before they exploded. Also, gunmen shot and wounded two policemen in the Jihad neighborhood and assassinated an army colonel who was sitting in his car in Amil.
Meanwhile, a spokesman for the Interior Ministry reported that "six terrorists" were killed while trying to attack police stations. Adel Daham also said that this was retaliation for killing al-Qaeda leaders. Today's violence may indeed be part of a 100-attack spree that al-Qaeda in Iraq has promised to carry out to avenge Osama bin-Laden's death in Pakistan. Similar attacks took place in Baghdad on Monday and last Thursday. Meanwhile, Iraq has postponed demilitarizing Iraqi cities because government officials think that local police and the Interior Ministry are unable to maintain security in them. Today's attacks would underscore that belief.