Rumors began circulating that the Israeli government was going to dismantle the illegal settlement of Gal Yosef in the occupied West Bank. Late in the evening the settlers starting building roadblocks and blocking the entrance with their cars.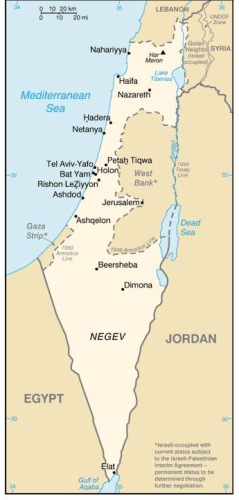 The rumor apparently wasn't true, but when an Israeli military patrol vehicle arrived on the scene to see what the ruckus was, their vehicle was surrounded and the soldiers were beaten up. Extra troops were deployed and temporarily captured one of the settlers, but he escaped.
One commander insisted that the attack "crosses a red line" and vowed the military would capture the attackers soon. Meanwhile, the military is still coping with anger at the inability to prevent another attack, the burning of a mosque inside Israel, earlier this week.
While the attacks are high profile embarrassments, they are nothing new, according to Israeli troops deployed in the West Bank. Indeed, one of them said the occupation forces spend more time trying to keep the settlers under control than they do confronting the Palestinians being occupied.
The settlement expansion has been a major political goal of a number of the current Israeli government's top factions, but as their numbers grow the settlers, egged on by religious leaders, are becoming a major thorn in the Netanyahu government's side, launching embarrassing attacks on Palestinian civilians and Israeli troops alike. In the end, the "problem" of Palestinians living inside Palestine may be dwarfed by the surliness of settlers that the government went to great expense to import into the region.