In one of the deadliest incidents in months, a suicide truck bomber detonated in front of the Somali Transitional Government's Education Ministry today, killing at least 70 people and wounding large numbers of others.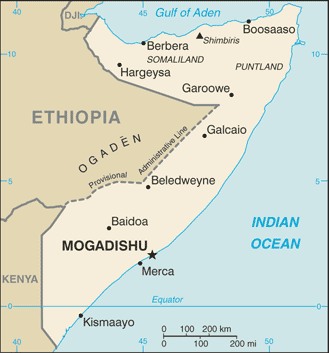 Officials were quick to blame al-Shabaab for the attack, which appeared to be aimed at students aiming for international scholarships at the ministry. Troops quickly arrived on the scene, and in a demonstration of their indispensable nature on the ground in Mogadishu, fired randomly into the air for awhile.
US officials also said that the attack showed al-Shabaab's growing links to al-Qaeda in the Arabian Peninsula (AQAP), though they weren't exactly clear on how it showed that.
The attack does, however, show that despite the promised "exit" by al-Shabaab, the capital city remains far outside of the self-proclaimed government's control, and the massive number of troops is doing little to prevent attacks.