The Obama Administration has been warning government employees for awhile that they faced punishment for reading the WikiLeaks documents, but were they serious? As one State Department employee reports, they apparently were.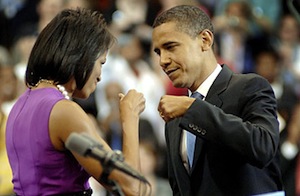 In a report released via TomDispatch.com yesterday, Peter Van Buren reports that he was "interrogated" by State Department officials and accused of "disclosing classified information." He must've really done something bad for an allegation like that, right?
Not really… the beginning and the end of the "crime" committed by Van Buren was posting a blog entry linking to a WikiLeaks cable from 2009 about Sens. John McCain (R – AZ) and Lindsey Graham (R – SC) urging the US to help provide for Moammar Gadhafi's security in Libya.
Not exactly earth-shattering, particularly since the cables were already released by WikiLeaks and were a matter of public knowledge. The Obama Administration has claimed, however, that even though the cables are available to the entire planet they're still classified and therefore "off limits."
What will ultimately come of the Van Buren investigation remains to be seen, though the interrogators did threaten him with criminal charges. Is this just a move to intimidate government employees, or will the administration start trying to toss government employees in prison for blogging about WikiLeaks?