Several attacks by both occupation and government forces as well as insurgents killed at least 54 people across Afghanistan Tuesday.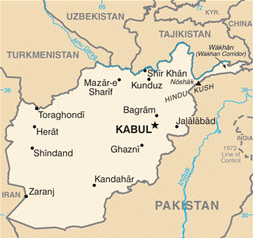 NATO planes bombed the eastern Ghazni province Tuesday morning, killing 30 "insurgents." No details on the attack were released by any wire services. Only Iran's Press TV reports that 35 civilians were killed, and that the attack was on a residential area. There is no way to verify either report; Iran's press often inflates Western misdeeds and NATO forces often lie about civilians in their kill count.
A roadside bomb in Herat, in the west, killed 16 on a bus, all women and children except for the bus driver. And in southern Lashkar Gah, a suicide car bomb killed two, not including the bomber. 10 police were among the wounded in the blast, near the police chief's office. Two more attempted bombers were shot dead by Afghan police in Kunar province, in the east.
Finally, also in Ghazni, three men blew themselves up as the bombs they were making prematurely exploded.
Violence is on the rise in Afghanistan as NATO forces begin tepid attempts to hand security over to locals.