After a request for US assistance in suppressing separatist Kurds, the Turkish government is expecting the delivery of Predator drones in June 2012.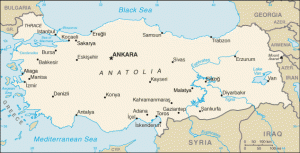 "We have agreed in principle [on the delivery of Predators]. Negotiations will continue," Turkish Prime Minister Recep Tayyip Erdogan said on Saturday. Erdogan also said that the number of vehicles and whether the drones would be purchased or leased had yet to be determined in the talks.
Turkish Defense Minister İsmet Yılmaz also told reporters on Saturday that the drones would be received by the US and given directly to the Turkish Armed Forces (TSK) to fight against the Kurdistan Workers' Party (PKK) in the country's southeast. Violent skirmishes between the PKK and TSK have taken place in the past few months.
The US is particularly involved in the latest fighting given its ongoing occupation of Iraq. On Monday Turkish warplanes again bombed suspected bases of the PKK in northern Iraq, followed by cross border artillery attacks.
Military assistance to Turkey to help fight the PKK is not without precedent. In the Clinton administration, arms sales to Turkey hit an all time high just as some of the worst atrocities were committed by the government in the crackdown on separatists.
This deal is also happening in the context of a dangerous proliferation of drone technology for use in state warfare and questions about the legality of the unmanned vehicles in war and in policing. Civilians have borne the brunt of the effects of America's drone wars and similar results are predictable in the case of Turkey.