Israeli Foreign Minister Avigdor Lieberman, as he is so often wont to do, today condemned Palestinian President Mahmoud Abbas, insisting that his effort to seek UN recognition of a Palestinian state was "incitement" and that Abbas "ran away" after his speech at the UN.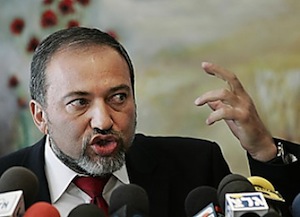 Lieberman went on to threaten "tough repercussions" for Abbas and possibly the world if Palestine is recognized as a state, saying that there would be a definite "Israeli reaction" to such a move.
The comments came without any specific details, perhaps a deliberate attempt to avoid spawning the sort of backlash Lieberman was met with earlier this month after suggesting Israel should arm Kurdish terrorists to "punish Turkey" for criticizing the Mavi Marmara attack.
Though the US has vowed to veto the Palestine bid at the UN Security Council, they are still expected to seek the status of non-member state at the UN General Assembly, where no veto power exists and a strong majority supports independence.