A story to be published on Monday in Newsweek is revealing that President Obama secretly sold 55 GBU-28 bunker-buster bombs to the Israeli military in 2009, citing comments from unnamed officials familiar with the deal.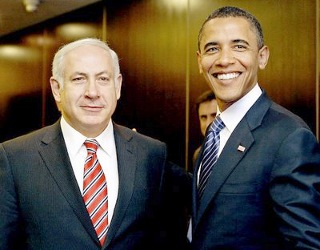 The Pentagon declined to confirm the sale, but Press Secretary George Little did say that US was "committed to helping Israel maintain its qualitative military edge." The bombs had been sought for an Israeli attack on Iran, something the Netanyahu government has repeatedly threatened.
Though Israel has repeatedly sought additional weapons for an attack on Iran and railed at their civilian nuclear program, the IAEA has repeatedly certified the non-diversion of nuclear material to any military purpose.
The same can not be said for Israel, however, where occasional mentions of their own massive nuclear arsenal come without any formal acknowledgement, and the nation still refuses to allow IAEA inspectors in. Indeed, the IAEA announced today that they will not even discuss Israel's nuclear weapons at their next meeting, an effort which came at the behest of the Obama Administration.