US drones were once again active in the southern Abyan Province today, killing at least 10 people in a pair of strikes in al-Mahfad and a pair of strikes in Shaqra.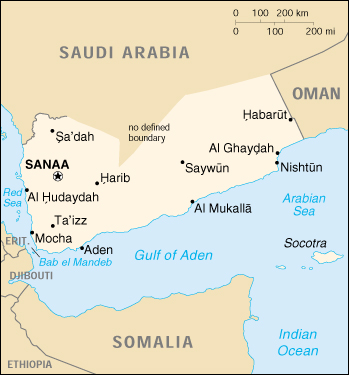 Both areas are believed to still be controlled by the Ansar al-Sharia, despite Yemeni military claims to have reclaimed "most" of the province. All of the slain were termed "al-Qaeda suspects."
The Obama Administration has repeatedly escalated the number of drone strikes in the country, with the hope of helping to prop up Major General Hadi's attempts to seize control of the nation as a replacement dictator for Ali Abdullah Saleh.
Though the strikes have centered around the south, the real violence in the country now is mostly in the capital. To that end the effort to announce a ceasefire yesterday has collapsed, with at least 16 more people killed around the capital by government troops. Incredibly both the ceasefire and its violation were entirely done by the regime, with the protesters never even commenting on the situation before it was clear it wouldn't hold.