Turkish Prime Minister Recep Tayyip Erdogan has submitted a list of requests for United States assistance in countering Kurdish separatists.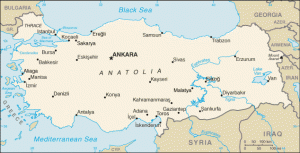 "There is a list of requests we have conveyed to them regarding the fight against the PKK," Erdogan said, referring to the rebel Kurdistan Workers' Party (PKK), which is considered a terrorist group by Turkey, the United States and the European Union. Erdogan made the comments directly after a meeting with President Obama which focused on counterterrorism.
Reciprocal violence has been on the rise recently between the Turkish military and the PKK, leading to deadly airstrikes that spilled over into Iraqi territory at the end of last month, with US approval. A bomb exploded near the center of the Turkish capital Ankara on Tuesday, killing three people and injuring at least 15, with Kurdish separatists as immediate suspects. The same day, a Kurdish rebel attack on a police academy in southeast Turkey left four civilians and one of the assailants dead.
US partnership with Turkey against the southeastern Kurds is not unprecedented. The two states cooperated in major atrocities against southeastern Turkey in the 1990's, leaving the countryside devastated with tens of thousands killed and millions displaced. What this renewed cooperation will amount to is not yet clear.