The U.S. ambassador to Islamabad said Saturday that the United States believes the Haqqani insurgent network is tied to the Pakistani government, a charge that could further raise tensions between Washington and Islamabad.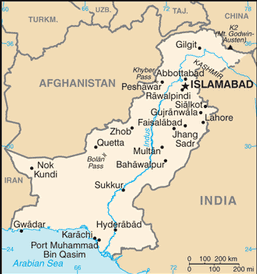 US officials earlier blamed the Haqqani network for the bombing of a US Combat Outpost in Afghanistan, as well as a 20-hour assault on the US Embassy in Kabul. But in an interview on Radio Pakistan that was broadcast Saturday, Ambassador Cameron Munter said "there is evidence linking the Haqqani network to the Pakistan government. This is something that must stop."
When asked what evidence he had for this belief, Munter said, "Well, it's just we believe that to be the case."
The US and independent analysts have long expected such a link, which goes back to the 1980's US funneling of money and weapons through Pakistan to the Afghan mujahadeen.
The Pakistani army has for years stopped short of attacking the Haqqani network's sanctuary in North Waziristan, although it has been fighting militants elsewhere in the tribal region. This reluctance to attack is based on a perception of national interest for Pakistanis that the Haqqanis pose no threat to them and may in fact be useful to counter Indian influence in Afghanistan after American forces drawdown.
The secret US drone program is used to strike Pakistani territory unilaterally, but on Wednesday Defense Secretary Leon Panetta issued a veiled warning that hinted at a more open attack against Pakistan. Panetta and other Obama administration officials are seemingly resistant to the notion that drone attacks, and US policy towards Pakistan more broadly, are merely amplifying anti-American militancy.