Israel's naval blockade of the Gaza Strip violates international law, according to a panel of human rights experts reporting to the United Nations on Tuesday.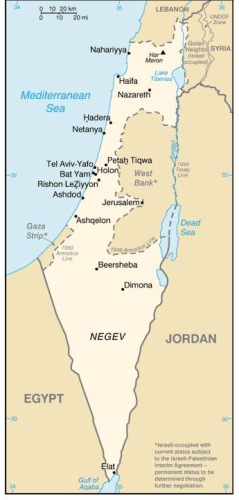 The finding disputes a conclusion reached by the UN Palmer Report on the Israeli raid of the May 2010 Gaza aid flotilla, which killed 19 activists aboard. That separate report concluded that Israel's use of force was excessive and unreasonable, but that the blockade was legal.
The conclusions of the new report actually coincide with an earlier fact-finding mission from last September, as well as the International Committee of the Red Cross, which both claimed the blockade is illegal. It has subjected Gazans to collective punishment in "flagrant contravention of international human rights and humanitarian law," they said.
"In pronouncing itself on the legality of the naval blockade, the Palmer Report does not recognise the naval blockade as an integral part of Israel's closure policy towards Gaza which has a disproportionate impact on the human rights of civilians," they said in a joint statement.
Richard Falk, UN special rapporteur on human rights in the occupied Palestinian territories and one of the five experts who issued Tuesday's statement, said the Palmer report "was aimed at political reconciliation between Israel and Turkey" and that "it is unfortunate that in the report politics should trump the law."
According to another of the UN special rapporteurs, about one third of Gaza's arable land and 85 percent of its fishing waters are totally or partially inaccessible due to Israeli military measures, while at least two-thirds of Gazan households lack reliable access to food as a result of the blockade.
The high-tension bid for Palestinian statehood, set to be voted upon by the UN this month, would be likely to make such conclusions much more official, leaving Israel susceptible to sanctions or even prosecutions for international crimes, which is reportedly a major basis for Israeli objection to Palestinian statehood.