The sacking of Israel's embassy in Cairo earlier today was just part of growing unrest against the Egyptian military junta, and the junta has declared a "state of alert" nationwide, canceling police holidays and attempting to stem the tide of protests.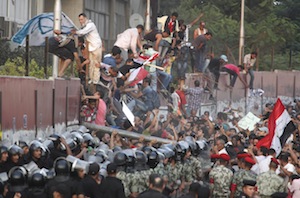 The attack on the embassy surprised everyone, as protesters tore down a wall set up as a barrier to the embassy building, smashed in and tossed large numbers of Hebrew-language documents into the streets. Egyptian officials say 450 were injured in clashes with the police, and one man died of a heart attack afterwards.
Protests moved into Tahrir Square, and clashes with riot police were reported in the surrounding streets. The protesters at the square insisted their aim was "correcting the path of the revolution," and the Egyptian Interior Ministry was also attacked.
The anger at the Israeli border killings were just one aspect of a growing sense of discontent against the junta, with protesters demanding more serious measures, like the announcement of a firm date for elections. The cabinet is planning an "emergency session" on Saturday to discuss the situation.