After several ultimatums from the Libyan rebel council, troops today clashed with remnant fighters on the outskirts of the loyalist town of Bani Walid, one of the last few significant possessions of the fighters loyal to Moammar Gadhafi.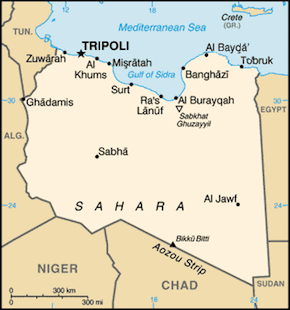 The clashes were about a mile from the center of Bani Walid, and rebel officials estimated some 600 loyalist fighters in the town. Incredibly, they claimed the fighters had made the population "afraid" and that the rebel attack was aimed at protecting civilians.
Yet the town was one of several that never had significant rebel support, and even after the fall of Tripoli many in the town were opposed to letting the rebels in, which is why the repeated threats of a rebel conquest were put forward. If anything they seem to have more to fear from the rebels, who have been treating those seen as disloyal to their cause extremely harshly.
The efforts by the rebels to keep up the offensive against the loyalists comes as they continue to fail in their attempts to track down Gadhafi. In many ways the attacks on loyalist towns are simply in the hope of stumbling across Gadhafi and his son Saif al-Islam.