Yemeni warplanes have confirmed attacking the Grand Mosque in the town of Jaar today, killing at least seven civilians and wounding five others in what officials say was an "accidental" attack.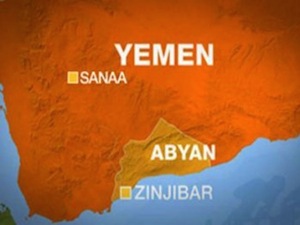 Instead, they say, the planes were supposed to bomb another, smaller mosque in the same town, which they say was held by "suspected al-Qaeda militants." The town is mostly under control of the Ansar al-Sharia.
The Ansar al-Sharia controls a number of towns in the Abyan Province, including the provincial capital of Zinjibar, which is just a few miles down the road from Jaar. With the Yemeni military repeatedly failing to reclaim the province on the ground, they are increasingly relying on air strikes.
The strikes are not exclusively Yemeni military bombing runs either, with US drones launching a number of attacks against the province on their behalf as well. Though the attacks have killed large numbers of people they don't appear to be changing the situation on the ground much.