A secret State Department diplomatic cable released by WikiLeaks has revealed that one of the primary reasons behind Israeli objections to Palestinian statehood is that lack of statehood keeps Palestinian territories outside the jurisdiction of the International Criminal Court (ICC), which prosecutes war crimes.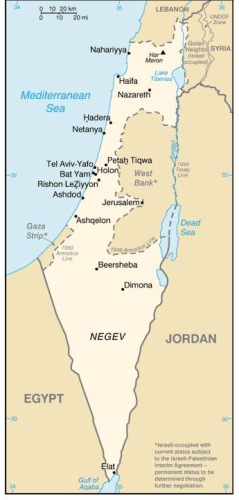 Military Advocate General for the Israeli Defense Forces (IDF) Avichai Mandelblit met with US Ambassador James B. Cunningham in February of 2010 to discuss investigations into allegations of misconduct during Israel's attacks on Gaza in December 2008 and January 2009, called Operation Cast Lead.
Mandelblit noted to Cunningham that Palestinian Authority Justice Minister Ali Kashan had requested that ICC Prosecutor Luis Moreno-Ocampo investigate alleged Israeli war crimes in the occupied territories since 2002, up to and including Operation Cast Lead. The cable reads: "Mandelblit said several legal opinions had been delivered to Ocampo noting that the ICC had no legal jurisdiction due to the PA's lack of statehood…"
The dialogue is unusually blunt, since Israel's public objections to Palestinian statehood at the United Nations, to be voted upon this month, have been mundane and political in nature.
After requesting multiple times that the US "state publicly its position that the ICC has no jurisdiction over Israel regarding the Gaza operation," Mandelblit "warned that PA pursuit of Israel through the ICC would be viewed as war by the GOI [Government of Israel]."
Mandelblit seems to deflect allegations of war crimes, not by denying they took place, but by dismissing them via a legal technicality. Accompanying Mandelblit was IDF Head of the International Law Department Col. Liron Libman who "noted that the ICC was the most dangerous issue for Israel," reads the cable.
Mandelblit also dismissed the United Nations Fact Finding Mission on the Gaza Conflict, called the Goldstone report after its chief judge, which found both Israel and Hamas guilty of war crimes. "The GOI hopes that eventually Goldstone would 'vanish,'" the cable reads. He also pointed to the IDF's own investigations of the conflict, but dismissed the possibility of an independent "commission of inquiry to review IDF investigations," saying "nobody thinks we should do it."
The cable also reveals the first official recognition found within the WikiLeaks cables of Israel's use of unmanned drone aircraft in Operation Cast Lead. In a bombing by one of these drones, up to 16 civilians were killed. "A UAV [drone aircraft] shot at two Hamas fighters in front of the mosque," reads the cable, "and 16 casualties resulted inside the mosque due to an open door through which shrapnel entered during a time of prayer."
In a cable from a year earlier in February of 2009, Israeli Ambassador Benny Dagan admitted to US official Robert J. Silverman that "The current strategy is to use disproportionate force to respond to attacks by Hizballah and Hamas, noting it may take repeated strikes in both cases."
Up to 1,400 Palestinians were killed in attacks by Israeli forces during Operation Cast Lead between, while some 5,000 were injured. Hundreds of those killed, up to half by some estimates, were unarmed civilians, including some 300 children, more than 115 women and some 85 men over the age of 50. Billions of dollars of infrastructure damage and numerous incidents of IDF attacks on civilian facilities, among other crimes.