Hundreds of Mexican soldiers and federal agents have raided casinos in the city of Monterrey, days after an arson attack on a gambling house killed 52 people in a country in which massacres and beheadings at the hands of drugs gangs are all too common.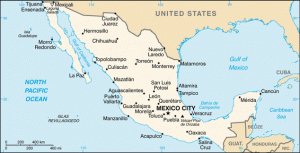 Five suspected members of the Zetas drug gang have confessed to involvement in the arson attack, which was reportedly motivated by a failure to pay the gang protection money. Security forces responded by confiscating about 1,500 slot machines at 11 casinos in Monterrey for an ongoing investigation meant to verify whether the casinos had paid taxes or introduced slot machines illegally.
On Sunday hundreds of people demonstrated in Monterrey, calling for an end to the violence and for local leaders, including Rodrigo Medina, the governor of the border state of Nuevo León, to resign.
The Zetas, who have ties to US-trained Guatemalan militias, were formed by defected Mexican special forces hired as hitmen for the Gulf cartel in the 1990s and have recently become one of Mexico's most feared crime groups. They are blamed for kidnappings, extortion, and murders in Mexico and throughout Latin America, including the massacre of 72 Latin American migrants in August 2010 in northeast Mexico.
Some 42,000 lives have been lost since President Calderon launched his offensive against the drug cartels. The Mexican government has received almost $2 billion in US aid since 2007, along with army training and security assistance, largely to fund this crackdown on drug cartels which has only made them stronger and more violent.