The disputes between Iraq and neighboring Kuwait are long-standing and well documented. Tensions between the two nations seem to be on the rise again as Iraqis loudly oppose the Mubarak al-Kabir Port project.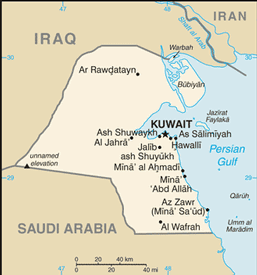 The opposition to the port centers from concern that it will reduce the value Iraq's own nearby port of Grand Faw. This led a number of Iraqis to rally against the Kuwaiti project, with the port being the latest in a long line of bones of contention between the two.
Now, it seems, matters have gone beyond simple protest, as a group inside Iraq has fired a number of rockets against Kuwait. So far the rockets fell short of Kuwaiti territory, but led to angry complaints from Kuwait and a rebuke from Iraqi MPs, who warned that the situation could escalate.
The violence is stemming from Shi'ite militias, but angry protests from the ruling State of Law bloc suggest that the issue has currency across Iraq and threats that the port could lead to Iraqi terror attacks against Kuwait suggest the issue isn't going to be an easy one to solve.