A twin bombing attack against the military academy in Cherchell, Algeria killed at least 18 people today and left 20 others wounded. Officials say the toll is likely to rise.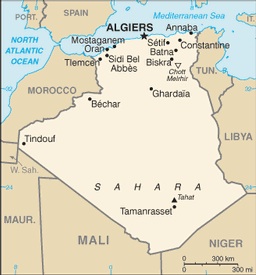 The attack began with an explosive planted just outside the academy, which appears to have done little except some minor external damage. The bomb did, however, attract large numbers of soliders, including several dining at a nearby restaurant.
Once the troops had congregated around the first explosive, a suicide bomber with an explosive vest drove his motorcycle into the crowd, detonating. The attack led the military to seal off the city, with army chief of staff Gen. Salah rushing into the city shortly thereafter.
So far no group has claimed credit for the attack, but the attack is similar to others carried out by al-Qaeda in the Islamic Maghreb (AQIM), an al-Qaeda affiliate active in northwestern Africa.