Gunmen burst into a casino in Monterrey, Mexico, Thursday night, spraying the carpets with gasoline and setting it on fire. 53 were killed and the death toll is expect to rise.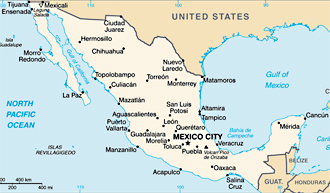 Drug cartels in Mexico's violence-plagued north often threaten business owners for "protection" payments. It's not clear yet who is involved in the attack but police assume it is one of the local gangs fighting for control of Monterrey's drug trade. The city is large and prosperous, and drug violence has only recently arrived from border areas.
The attack comes as the New York Times reports yet more American involvement in the Mexican government's military attack on drugs. The US has allowed Mexican police to launch raids into Mexico from US side of the border, but says it doesn't participate.
The US often has drug suspects extradited to stand trial from across the Americas as part of its various deals with Colombia and Mexico, and the Times also recently revealed that the CIA, DEA, and their contractors were operating inside Mexico.
These efforts have only served to ramp up the violence; some 42,000 people have been killed since the $1.4 billion Mérida Initiative began in 2006. Mérida funds the Mexican government to stop the flow of drugs into the United States, the Americas' primary illicit-drug consumer.