Comments today from the US State Department insisted that neither the United States nor NATO has any involvement in the ongoing manhunt for Libyan dictator Moammar Gadhafi, insisting this falls outside of the UN mandate for their war.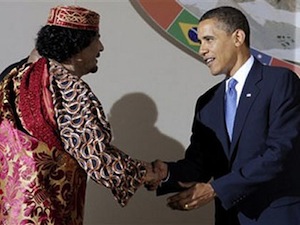 Pentagon officials reiterated this position, insisting that NATO had no role in the hunt, despite British Defense Minister Liam Fox's claim that NATO is helping "providing intelligence and reconnaissance" to track down Gadhafi.
Indeed, Fox seemed to put his money where his mouth is, as reports on the ground have a number of British SAS forces on the ground in Tripoli, scouring through homes and tunnels that Gadhafi might theoretically be hiding in.
The rebel faction seems to have no clue where Gadhafi might be anymore, despite several times he has been reported surrounded, and an unnamed businessman is reported to have offered $1.63 million as a cash reward for his capture.