President Barack Obama said Monday as Libyan rebels celebrated in Tripoli that Muammar Gadhafi's "rule is over" and that the rebels must build a democratic government through "peaceful, inclusive and just" measures. But Mustafa Abdul-Jalil, head of the rebel council poised to lead Libya once Muammar Gadhafi is toppled, said that rebel forces are still not in control of Tripoli and that pro-Gadhafi forces still controlled the loyalist stronghold of Bab al Aziziyah, where Gadhafi's compound is located.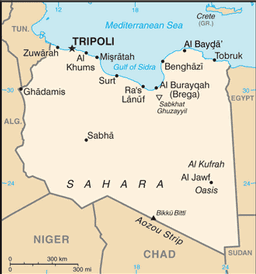 Rebels continued to battle Gadhafi forces in firefights and clashes with heavy weapons, including anti-aircraft guns, as rebels tried to eliminate remaining snipers and pockets of resistance. NATO officials have also vowed to continue bombing missions over Libya until all pro-Gadhafi forces surrender or return to barracks.
NATO warplanes have flown nearly 20,000 sorties in the past five months, including about 7,500 strike attacks against Gadhafi forces. Just in the past two days, at least 40 targets in and around Tripoli have been hit.
Muammar Gaddafi's son Seif al-Islam, also wanted by the International Criminal Court for crimes against humanity, has not been arrested by rebels despite earlier reports and is still in Tripoli. Rebels also claimed to have captured Gadhafi's other son, Mohammed Gadhafi, but have now issued a statement claiming he escaped some time after his initial arrest.
Western powers are concerned that tribal, ethnic and political divisions among the diverse armed groups opposed to Gaddafi could lead to the kind of blood-letting seen in Iraq after the overthrow of Saddam Hussein. "You will recall that after Baghdad fell, all of a sudden the Saddam Fedayeen [armed insurgents] materialized," Harlman Ullman, senior adviser to the Atlantic Council in Washington, told al-Jazeera.
"In particular," said Connecticut Senator Joseph Lieberman, "we must support the new Libyan authorities to ensure they are able to prevent acts of retribution,  initiate a credible process of national reconciliation, secure weapons depots and critical infrastructure, protect vulnerable populations, establish security and rule of law in Tripoli and throughout Libya."
The US and NATO have also expressed doubts that their rebel proxies in Libya will be responsible about the security of Libya's weapons stockpiles. Apparently recognizing the fractured, amateurish nature of the rebel council, Western leaders have concerns that dangerous weapons will get into the hands of one or another faction, or even that the Benghazi-based rebels who head the Transitional National Council will not properly secure them.
"In particular, we must ensure that Gaddafi's stockpiles of advanced weapons, chemical weapons and explosives don't fall into the wrong hands," said House Intelligence Committee Chairman Mike Rogers. "Even after Gaddafi is out of power we will have to step up and lead to ensure U.S. national security interests are safeguarded."
No mention of introducing ground troops has yet been made by US or NATO political leaders, although such an eventuality has been assumed for a post-Gahafi Libya by many military officials going back months. The political liability of a power vacuum and possible subsequent violence has also led some to expect ground forces in Libya.