A pair of suicide bombings that local government officials say were claimed in a letter by al-Qaeda in the Arabian Peninsula (AQAP) hit southern Yemen today, killing at least 13 people, including a number of pro-government tribesmen.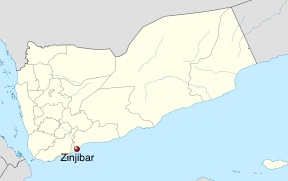 The larger of the two attacks hit a checkpoint run by the tribesmen, and involved an explosives-laden car. At least nine people were killed and 20 wounded in this attack, which was near the town of Zinjibar.
Zinjibar is the capital of the Abyan Province, and is currently occupied by a group calling itself Ansar al-Sharia, reportedly with strong ties to AQAP. The group has held the town and much of the province for months.
The second attack came against a tribal meeting in Moudiyah City, where a Saleh regime official was recruiting the tribesmen to fight against rebel factions. The bombing killed four, including the official.