Violence against the Gaza Strip appears to be on the rise again today, as Israeli warplanes continued to pound the tiny, densely populated enclave in a series of attacks late Friday which killed at least one person and wounded three others.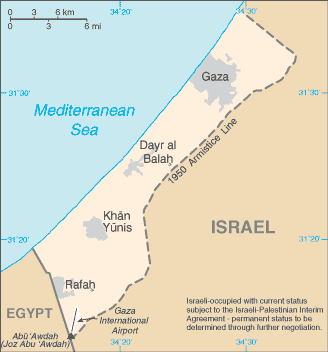 The attacks follow a strike yesterday against the Popular Resistance Committees (PRC), which was blamed for a terrorist attack in Eilat, Israel. Today, however, the strikes appeared to be hitting Hamas targets, with Israel's military insisting Hamas is "solely responsible for any terrorist activity" from Gaza.
The attacks have already spawned a reaction as Hamas, which has been in a de facto truce with Israel since the end of the 2008-09 Israeli invasion, announced today that it is ending the truce. Already rocket fire seems to be on the rise, though it is unclear if the attacks are Hamas-launched.
The bellicose comments from Israel, though largely nothing new, point to a new series of attacks against the strip, always a popular move in the nation's far-right coalition government. The attacks have so far accomplished little, except for provoking more attacks from the other side.