Turkish warplanes bombed multiple targets inside Northern Iraq today, reportedly targeting camps belonging to the Kurdistan Workers Party (PKK) separatists operating inside both countries.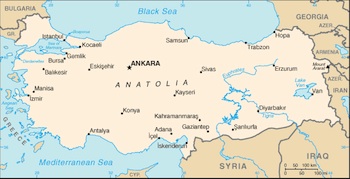 The attacks, according to the PKK, were retaliation for an ambush they launched inside of Turkey. The PKK said the ambush killed at least eight soldiers, though the Turkish government has yet to comment.
The bombings in Iraq were the first air strikes by the Turkish government so far this year, an unusual lull after several years of constant strikes in rural Iraqi Kurdistan, where the PKK has been operating mostly with impunity.
Turkish Defense Minister Ismet Yilmaz, while declining to confirm the toll, said that the ambush was in the southeast and that the "rebels are testing our patience."