In what could be the single deadliest NATO attack since the Western war on Libya's Gadhafi regime began in May, 85 civilians were killed in a cluster of farmhouses in Majar, according to Libyan officials. The village is about 90 miles east of the capital, Tripoli.
A Gadhafi spokesman said 33 children, 32 women, and 20 men were killed in the attack.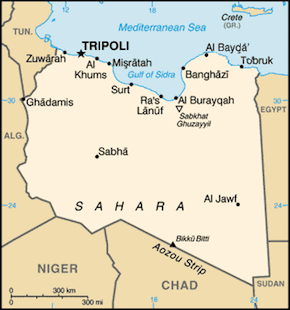 NATO says its planes bombed a "military staging area," and if there were any casualties, they are likely military personnel or "mercenaries." Colonel Roland Lavoie, the alliance's spokesperson in Brussels, said the strikes aim to protect Libya's civilians from attack by Gadhafi's forces. The Gadhafi regime denies attacking civilians, though during the initial uprising it undeniably did kill many protesting civilians.
A Reuters reporter saw 30 bodies at a hospital in nearby Zlitan, some of which contained the remains of children. "They (NATO) do not differentiate between soldiers, children and old people," said medical student Abdulkader Al-Hawali, in residency at the hospital.
NATO has admitted to killing civilians in the recent past. Just last week, in Zlitan, NATO bombs killed a physics teacher and his family. Some two weeks ago, NATO bombed a Zlitan hospital, killing seven. And on June 21, just two days after admitting to killing nine civilians in an "accidental" strike in central Tripoli, NATO denied and then admitted an attack that Gadhafi officials say killed 15 civilians.
NATO also bombed a Libyan frigate in Tripoli harbor this morning after weapons were observed being unloaded, the alliance said.