Sheik Ahmed, the President of Somalia's self-proclaimed government, announced a major victory over the al-Shabaab militant faction on Friday, and predicted that the group would be entirely defeated nationwide "soon."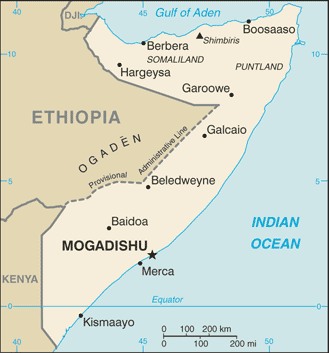 Since then, the prevailing assumption is that the regime has a decisive victory over the al-Shabaab, even though fighting continues in Mogadishu and al-Shabaab itself is insisting it is not a retreat but a change of tactics.
But despite it making absolutely no sense to their general narrative, the Somali government is now pushing the African Union for even more troops, insisting it needs an urgent escalation of the war to combat al-Shabaab.
The new push for troops is being couched in humanitarian terms in no small part, with officials claiming they need to secure famine aid nationwide. But with government troops killing famine refugees in Mogadishu and, according to witnesses stealing the food, this seems to be an odd angle to take, and just the latest in an endless push for more escalations.