Speaking today on CBS' "The Early Show," Rep. Barney Frank (D – MA) confirmed that he sees military spending as the "biggest reason" for the US credit downgrade, which devastated financial markets over the weekend.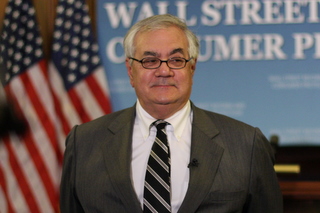 Rep. Frank, who is the senior Democrat on the House Financial Services Committee, told viewers that an extra $200 billion could be saved virtually trivially from the military's spending, and vowed to focus on reining in defense spending in the coming months.
Standard and Poor's downgraded the US sovereign credit rating to subprime on Friday, saying that Congressional moves of the debt were short of what was needed. President Obama angrily condemned the move today, saying the US would "always be a triple-A country."
The cuts Congress announced as part of the debt deal were down the road several years by and large, and the military was virtually untouched. The Pentagon has warned that any cuts would be a grave threat to national security.
For its part, the Chinese govt also chimed in with a similar opinion.