Reports from the East Libyan rebels today are claiming that a NATO air strike in the city of Zlitan killed at least 32 people, including Moammar Gadhafi's son Khamis. If confirmed this would be the second son killed by NATO in the war, after a strike on his Tripoli home killed Saif al-Arab Gadhafi.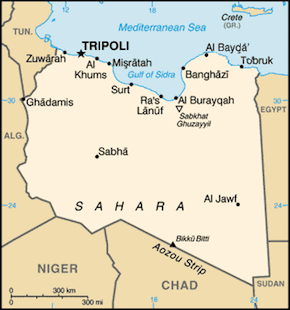 But the death of Khamis, a commander in the Libyan Army, is as yet unconfirmed, and the Gadhafi government has denied that he was killed, saying the reports are a "dirty trick" aimed at covering up the civilian killings in Zlitan.
NATO for its part says it cannot either confirm or deny if Khamis was slain in the attack, though they did say that they were "aware of the reports" that they had killed him. The East Libyan rebels praised his apparent death, saying the ideal was to "capture all these criminals" but adding that killing them "is another option."
This is actually the second time Khamis has been reported slain in the civil war, with reports coming out in late March that he was killed in a NATO air strike. That time, of course, turned out to be untrue.