Sparked by the Albanian-dominated government as a power-grab in the Serb-majority north, the unrest in North Kosovo has convinced NATO to send another 700 armed peacekeepers to the territory.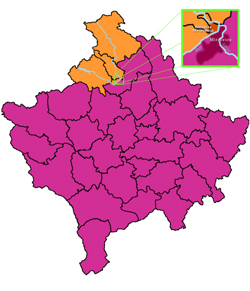 Pristina aimed to start a trade war with Belgrade by taking over border posts previously manned by Kosovo Serbs and cutting off the flow of goods. An Albanian policeman was killed in the operation, and subsequent skirmishes between Kosovo and Serbian government police prompted NATO troops to seize the border posts. Locals then formed roadblocks to prevent Albanian police from being posted by NATO.
"We will not allow NATO to bring Kosovo (Albanian) police and customs to the border, but we will protect ourselves in a peaceful manner," the mayor of the northern part of the divided city of Mitrovica told Reuters this weekend. The protesters are using vehicles, large logs, and tires to block the roads.
The new troops consist of 600 Germans and 100 Austrians, who will join the 6,000 NATO troops already in Kosovo. A NATO spokesperson told Reuters the deployment was to relieve some overworked battalions, "not [because] the situation has gotten worse."
The Kosovo War officially ended in 1999, but the ethnic-Albanian state that declared independence in 2008 — after clearing Serbs from some interior areas in a 2004 pogrom — continues to struggle for power in its territory. The EU, which normally favors Pristina, criticized the move to control the north.
Meanwhile, in Bosnia, a grenade was sent in the mail to a war-crimes court the country's Serbs see as biased against them. Court security found the weapon and say authorities know the identity of the sender.