Comments today from the Egyptian junta's Deputy Justice Minister confirm that long-time dictator Hosni Mubarak's trial will be held next Wednesday. The trial will be held in the capital city of Cairo.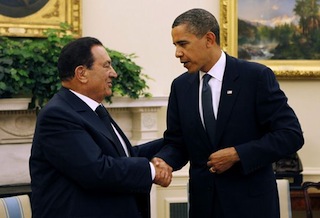 There had been questions about whether or not a trial would ever actually be held, given Mubarak's failing health. The dictator is continuing to refuse solid food, and officials are mulling intravenous feeding to keep him alive during the trial. The is some doubt if he will be able to travel from prison to his trial in his current condition.
Mubarak was ousted in February after massive pro-democracy protests. The Egyptian military has taken over the country on an interim basis, with elections expected in the fall. Protests have continued intermittently over demands that Mubarak and his sons be brought to justice.
The charges against Mubarak center around both decades of corruption and the violent crackdowns against protesters which eventually forced his ouster. His sons as well as former Interior Minister Habib al-Adli are also facing similar charges.