Two policemen were wounded Monday, with one later dying of his injuries, in an operation to extend central control over North Kosovo. Since the region claimed independence in 2008, its largest remaining majority-Serb enclave has resisted rule from the capital, Pristina. The European Union, which normally backs Kosovo's Albanian-controlled government, has condemned the operation.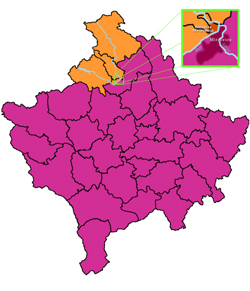 The Kosovo government claimed it wanted to "restore order" in the area, which borders Serbia, but did not describe any specific disorder. Pristina also aims to start a trade war with Serbia; grabbing border posts could help them seal the disobedient Kosovo Serbs off from Serbian goods.
Though the US and Europe helped Kosovo secede from rule by Serbia, they have denied the same privilege to Kosovo's Serbs, historically a majority in the north. The region is also home to refugees from other parts of Kosovo, having been cleansed in 2004's ethnic pogroms.
Serbia refuses to recognize the breakaway republic, as do other countries with separatist movements.
The EU is calling for Kosovo to remove the policemen and turn the border posts back over to NATO, whose forces control security in the disputed territory.