Speaking today about the prospect of an open-ended US presence in his country, Afghan President Hamid Karzai insisted that any "strategic partnership" with the United States would depend on the Americans satisfying long-standing demands.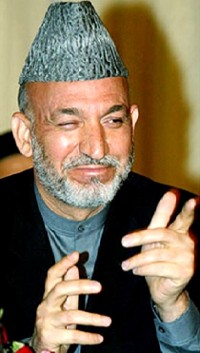 Among those demands, Karzai insisted, are that the US no longer take prisoners nor operate their own prisons. Likewise, he reiterated his demand that the US immediately stop launching night raids on homes.
Though a larger number of civilians are actually killed in air strikes, the night raids are particularly galling to Afghans uncomfortable with the notion of foreign troops bursting into their homes in the middle of the night and rounding them up on suspicion. Such raids, including one earlier this month in Khost, regularly end with civilian deaths and with NATO claiming even the children within are "Taliban."
Karzai has repeatedly confirmed that the US is seeking permanent military bases in Afghanistan. It is unlikely the US will agree to an end to night raids over Karzai's demands, though different military commanders have disagreed on how widespread the raids should be.