At least 13 Turkish soldiers and seven members of the Kurdistan Workers Party (PKK) were killed today in a battle in a heavily-wooded area in Diyarbakir Province, the deadliest clash since the end of a PKK ceasefire early this year.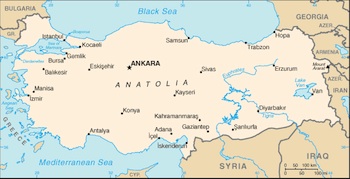 Turkish military leadership reported that the soldiers were killed when PKK forces threw hand grenades at them, starting a forest fire in which they were killed. They also reported seven other soldiers wounded.
This was in stark contrast to the reports from a Kurdish news agency, which cited witnesses saying that Turkish warplanes had launched air strikes which ended up hiting both militants and soldiers alike.
Secretary of State Hillary Clinton expressed support for the Turkish military in this matter, promising support for the military's fight against the PKK. Though PKK leadership has threatened a "great war" over the treatment of Kurds in the nation, today's fighting was one of comparatively few incidents in the past several months.