Launched last week, the Libyan rebel offensive against Tripoli was touted as a potentially decisive move from the south, bolstered by French weapons. As with every other offensive launched by either side, however, it has quickly ground to a halt.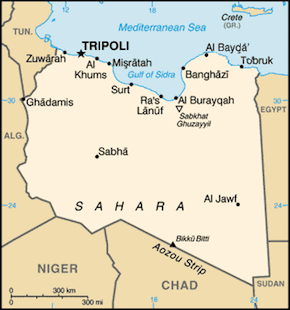 A few villages were captured, but the rebels, described by the Washington Post as clad in blue jeans and flip-flops but with comparatively few weapons, expressed surprise at their stalling offensive, with one commander expressing anger that NATO wasn't providing more weapons and help for their offensive.
Still and all, the Gadhafi forces are back on the move, retaking much of the lost territory already and expressing confidence that they would return to the previous positions in short order.
This will leave the situation, as ever, in a stalemate, and with yet another offensive failed four months of war have convinced many that the NATO war has failed, and that a negotiated settlement if not outright partition is inevitable.