Fresh off of the announcement that an air strike against Logar Province killed 16 civilians, the governor of Afghanistan's Kunar Province is reporting that NATO has struck again, killing four civilians in another strike in the Kunar Province.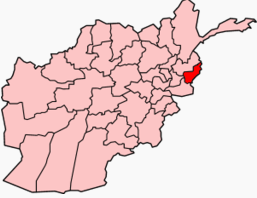 The Kunar strike came following an insurgent attack on a NATO base in the province, and the four were killed while repairing a water pump in the Asmar District, apparently after NATO assumed them to be the attackers.
In addition to being the second strike killing civilians reported today, this is the latest in a number of recent strikes by NATO forces, including two in the Khost Province over the past week which killed at least 25 civilians.
The Kunar Province has been a site of increasing militant activity lately, with a number of cross-border attacks being launched from Kunar into neighboring Pakistan. Pakistan has complained about NATO's inability to maintain border security.