A top aide to President Obama, John Brennan, is in Saudi Arabia today, pressing the long-time dictator of neighboring Yemen Ali Abdullah Saleh to sign the GCC transition plan and step down as president.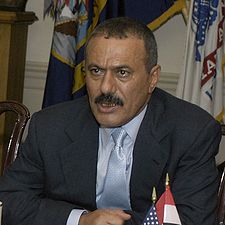 Brennan met with Saleh at a military hospital, where the president is recovering from a nearly successful assassination attempt over a month ago. Badly burned, Saleh is defiant and has demanded pro-democracy protests in the streets of Sanaa end.
Saleh's grip over the country was already weakening considerably before he fled to Saudi Arabia for treatment, and the US has expressed concerns he can no longer rule effectively. They have urged him to hand over power to Major General Hadi, his deputy.
Saleh has repeatedly promised to sign a GCC transition deal, only to back out at the last minute over some dispute. He is said to be planning a return to Yemen on July 17, the 33 anniversary of his seizure of power.